The Age of Apocalypse is Coming!
#Xmen #Apocalypse 2016!
Another epic mutant storyline!
Thanks Bryan Singer!
Amazing Spider-Man 2 Trailer!
Loki on Comedy Central: Who's Better Thor or Loki?
Loki, the Asgardian God of Mischief squares of with some kids about who's better, Thor or Loki?
Source:
Video via Comedy Central on YouTube
Photo via Entertainment Weekly
Join us here on Tumblr! Like us on Facebook and Follow us on Twitter (@geeksngoddesses)
NYCC Day 2 Cosplay Snapshot
Welcome to Day One of the 2013 New York Comic Con!
New York Comic-Con's Cosplay All Stars
We're attending the 2013New York Comic-Con and we wanna see these awesome artists and the amazing costumes!
@VampyBitme aka Linda Le
@misshabit aka Amie Lynn
@MnikaLee aka Monika Lee
@YayaHan
@OJessicaNigri aka Jessica Negri
@KatieCosplays aka Katie George

If you're attending #NYCC, let's meet up! Msg us here, tweet us at @geeksngoddesses.
We wanna watch #Gravity! How did you like the new Alfonso Cuaron film? Tweet us at @geeksngoddesses
Our 2013 Baltimore Comic-Con Collection
We loved the turnout and the variety of artists and vendors at the 2013 Baltimore Comic-Con. We'll feature more artists and vendors in our next post!
Check out the amazing artists and their work. Here's our 2013 BCC collection:
Source:
Photos via GeeksandGoddesses.com
Join us here on Tumblr! Like us on Facebook and Follow us on Twitter (@geeksngoddesses)
The Batman: Silent Knight…Unholy Knight Trailer!
Great silent film style trailer by artist Dave Bullock and writer Michael Uslan's The Batman: Silent Knight..Unholy Knight!
It's a perfect retro short for the second issue of Batman: Black and White available digitally and in print on October 2nd, 2013.
According to Dave Bullock on his blog about the trailer:
"Whether in comics or animation I prefer to portray these icons as having high moral values, and unaffected  by fashion and trends, which lends itself perfectly to the 'retro cool" Silent Films of the late 20's and early 30's."
"Silent Knight is a homage to the greatness of the early pulp cinema serials, many of us grew up with."
Visit Dave Bullock's work at Deviant Art and on his blog.
Sources:
Photos via Dave Bullock's blog
Video via DC Comics on YouTube

Join us here on Tumblr! Like us on Facebook and Follow us on Twitter (@geeksngoddesses)
The Simpson's Treehouse of Terror XXIV Opening Sequence by Guillermo Del Toro
Talk about an epic intro to the latest Simpson's Treehouse of Terror, Guillermo Del Toro pulled out all the stops and created an amazing homage to all things horror and fantasy in Springfield.
According to Entertainment Weekly:
"The Simpsons titles are so iconic and yet they've never been riffed in this vein," he says. "I really wanted to land the connections between the [show's] set pieces and the titles and some of the most iconic horror movies, and intersperse them with some of my stuff in there for pure joy," he says. "For example the idea that Ms. Krabappel could be outside the school with Alfred Hitchcock which is a reference to the sequence in The Birds that happens outside of the school in Bodega Bay. To use Chief Wiggum as the Cyclops from Harryhausen, dipping the [Lard Lad] donut in a water tank, to have the nuclear spill from Mr. Burns' plant create zombies — all of this stuff seems to make sense to interconnect. If Homer really gets a radioactive isotope, he could turn into a reaper from Blade. Or the famous shot that is always in the titles — Maggie driving and then you pull back and there's Marge driving, right? But in this case Maggie is driving, and she's driving the car from the horror movie from the 70s called The Car, which is one of my favorite guilty pleasure B-movies. And what if Lisa is in the music class, but she's in the music class with every Phantom of the Opera ever made? It was a unique opportunity."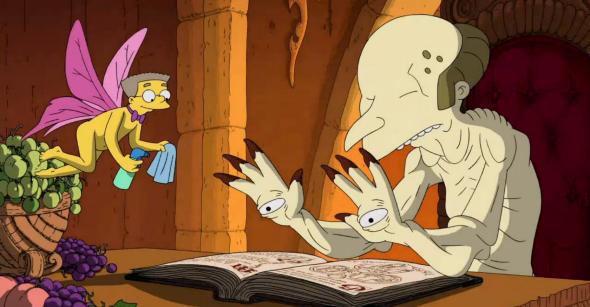 Photos via Joblo.com and Slate.com
Video via Animation Domination on YouTube

Join us here on Tumblr! Like us on Facebook and Follow us on Twitter (@geeksngoddesses)
Beautiful Wonder Woman Fan Film from Rileah Vanderbilt & Rainfall Films
With nearly a million views on YouTube, Wonder Woman comes to life thanks to Rileah Vanderbilt and Rainfall Films.
Synopsis:
The Amazon warrior from Themyscira does battle with men and monsters in this new short project from Rainfall Films. Starring Rileah Vanderbilt, the film was a passion project from all involved; a unique take on the DC superhero beloved and respected by millions around the world.
We love Rainfall's take on the iconic character and it's a fantastic jumpstart to the debate on why we don't have Wonder Woman movie at this point. 
Blending Wonder Woman's battles on Themyscira and mythical creatures with her battles in the present world might lead the way in how DC Comics and Warner Bros approach to the Amazonian Princess on the big screen.
Let's hope that the writers and the studio come up with the correct formula and come up with a true Wonder Woman we can believe in.
Here is Rileah Vanderbilt's Blog and her thoughts on filming the Wonder Woman short film.
Wonder Woman the Animated Movie also provides a great example of her origin story and her emergence into the present world. Fighting Ares, the God of War, in the past and present enables a future Wonder Woman movie to bridge her origin and battle his minions in the present world. Let's make this movie happen, DC Comics!
Visit Rainfall Films and Rileah Vanderbilt
Photos via Rileah Vanderbilt
Video via Rainfall Films on YoutTube
Join us here on Tumblr! Like us on Facebook and Follow us on Twitter (@geeksngoddesses)
Ready for Marvel's Agents of S.H.I.E.L.D.
As the new Fall TV season gets into full gear, one of the most anticipated shows of the season makes its debut, Marvel's Agents of S.H.I.E.L.D.!
The biggest question of the show will be how does Agent Phil Coulson, played by Clark Gregg, come back to life? As you know, Gregg's character died in the Avengers film. 
Another set of questions will how will this new cast of characters flesh out this secret agency and how will they deal with super powered beings on a week to week basis.  I guess we'll all find out. Geeks-and-Goddesses.com will be live tweeting tonight's episode!
Synopsis:
Clark Gregg reprises his role of Agent Phil Coulson from Marvel's feature films, as he assembles a small, highly select group of Agents from the worldwide law-enforcement organization known as S.H.I.E.L.D. Together they investigate the new, the strange, and the unknown across the globe, protecting the ordinary from the extraordinary. Coulson's team consists of Agent Grant Ward (Brett Dalton), highly trained in combat and espionage; Agent Melinda May (Ming-Na Wen), expert pilot and martial artist; Agent Leo Fitz (Iain De Caestecker), brilliant engineer; and Agent Jemma Simmons (Elizabeth Henstridge), genius bio-chemist. Joining them on their journey into mystery is new recruit and computer hacker, Skye (Chloe Bennet).
Marvel's Agents of S.H.I.E.L.D., Marvel's first television series, is from executive producers Joss Whedon (Marvel's The Avengers, Buffy the Vampire Slayer), Jed Whedon & Maurissa Tancharoen, who co-wrote the pilot (Dollhouse, Dr.Horrible's Sing-Along Blog). Jeffrey Bell (Angel, Alias) and Jeph Loeb (Smallville, Lost, Heroes) also serve as executive producers. Marvel's Agents of S.H.I.E.L.D. is produced by ABC Studios and Marvel Television.
Photos via ABC

Join us here on Tumblr! Like us on Facebook and Follow us on Twitter (@geeksngoddesses)
More Scenes from the 2013 Small Press Expo
We can't say enough good things about how awesome SPX: Small Press Expo was this year! Check out our photos and let's follow these amazing independent artists and writers!
Stay tuned to Geeks-and-Goddesses for more detailed interviews with the artists, writers, and publishers from the Small Press Expo!
Photos by GeeksandGoddesses.com
Join us here on Tumblr! Like us on Facebook and Follow us on Twitter (@geeksngoddesses)